---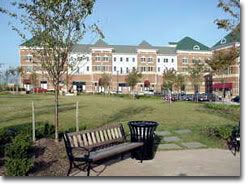 King Farm is a national model for urban planning, providing space for living, working, shopping and recreation - all in a traditional American setting. With two residential villages, Watkins Pond and Baileys Common, King Farm offers a mix of single-family homes, townhomes, condominiums, and luxury apartments. Designed to be a walking community, King Farm residents find the shops of the Village Center, work at Irvington Centre, or recreation areas just steps away. At the center of King Farm is a 12-acre park featuring tennis courts, basketball courts, a softball field, a soccer field, two playgrounds, several picnic areas and dozens of benches along its meandering paths. The King Farm Community Center features a large meeting area, resident-accessible gym, and the community pool.
King Farm is conveniently located immediately off Exit 8 on I-270, access to the Montgomery County Technology Cooridor and the Capital Beltway are just minutes from your door. On the other side of King Farm is Route 355 and access to the largest retail cooridor on the East Coast.
For those who prefer mass-transit, King Farm is just a short walk from the Shady Grove Metro Station on the Metro Red Line. For added convenience, the King Farm Shuttle provides complimentary loop service for residents of King Farm to the Shady Grove Metro Station throughout the day. Also available are bus routes through King Farm provided by Metro and Ride-On.

Nearest Metro: Shady Grove (walking distance, free shuttle available)
Price Range: $400,000 - $1mil+
---


Fallsgrove is a mixed-use neighborhood development offering New Urbanism at its finest, with large single-family homes, beautiful town homes, and spacious luxury condominiums.on approximately 257 acres located east of Shady Grove Road opposite the Shady Grove Medical Center in Rockville, (Montgomery County), Maryland.
Walk to the neighborhood Village Center with some of the area's finest restaurants. Work out on five miles of trails. Meet neighbors in one of Fallsgrove's many parks. Catch a bus to the Metro or MARC train at the village transportation center. Spend an evening at a concert on the green or just relax in your home and let the world go by. With everything from major work centers and superior Montgomery County Schools nearby, it's easy to see why Fallsgrove is one of the most sought-after communites in Montgomery County.

Nearest Metro: Shady Grove (short drive; bus stop nearby)
Price Range: $400,000 - $1mil+
---
Rockville Town Center: The redeveloped Rockville Town Center is now complete. The area features the new Rockville Regional Library, a Town Square, three public parking garages and a mix of retail, residential, office, cultural, restaurant and entertainment uses. Rent-to-own condominimum residences are available above 175,000 square feet of retail/restaurants, tree-lined streets, benches, artwork and sidewalk cafés, and a public plaza used for special events, concerts and farmers' market.

Nearest Metro: Rockville (walking distance)
Price Range: Condos from $300k

---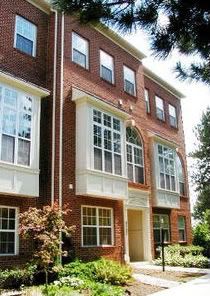 Washingtonian Center: The Washingtonian Center is a town center project that is mixes residential, retail, and office development that serves as the unofficial Town Center of Gaithersburg, Maryland area.

Housing includes high-rise condominimum units, rental apartments and luxury townhomes with garages. Uniquely designed and located for privacy, all homes are steps away from shopping, movies, health club, and offices.

Located just off I270 at I370, and just 3 miles to Shady Grove Metro, Washingtonian Center is an excellent location for commuters who want the feel of a big city but the convenience of the suburbs.

Nearest Metro: Shady Grove (short drive; bus stop nearby)
Price Range: Townhomes from the mid $400k
---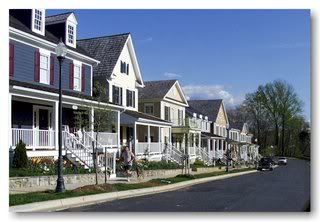 Kentlands: The first of the neo-traditional communites in Montgomery County, Kentlands is located in Gaithersburg (North Potomac), Maryland. Designed on a central idea that the community should be pedestrian-oriented, and mix together the necessities of daily life. Houses, shops, businesses, offices, schools, places of worship, restaurants and recreation are placed close together, and made accessible to walkers via sidewalks and paths. Kentlands is noteworthy for its intensive mix of public and private spaces from quiet parks and active playgrounds to lakes, gardens, a village green, paths and nature trails.

Equally important is the diversity that comes from a mix of residents and housing affordability. Housing types were built that would work for singles, young families, and older residents, in a range of apartments, cottages, townhouses, single-family homes (some with garage apartments) and live-work units. The housing mix brings people of diverse ages, ethnicity, and incomes into daily interaction.

Nearest Metro: Shady Grove (short drive; bus stop nearby)
Price Range: $500,000 - $1mil+


---
Lakelands: The Lakelands is a 340-acre Traditional Neighborhood Development in Gaithersburg, Maryland. With 1,410 residential units, Lakelands began in 1998 and has been carefully designed and planned to recreate the atmosphere of a small town, Lakelands provides a living environment similar to its adjoining community, Kentlands.
Streets are narrow with ample sidewalks and are organized in a grid pattern to eliminate isolated cul-de-sacs. Single-family homes and town homes are built on smaller lots to promote neighborliness, safety, and security, as well as minimize property taxes and upkeep. Schools, stores and numerous parks are within walking distance to further encourage interaction among neighbors and reduce reliance on automobiles. There are many activities held throughout the year for residents to participate in, which reinforces the sense of neighborhood and community.

Nearest Metro: Shady Grove (short drive; bus stop nearby)
Price Range: $400,000 - $1mil+
---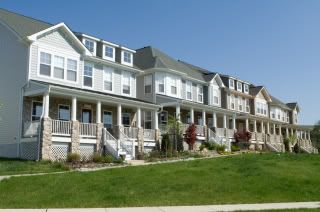 Clarksburg Town Center: The Clarksburg community in Montgomery County, Maryland, is designed to reflect the rich history of a town founded in 1752. Expertly crafted homes reflect careful adherence to traditional architectural styling. Homes are surrounded by acres of lush parkland and a retail district will be an integral part of the Town Square. King's Pond Park includes a softball diamond, soccer field, picnic area and fishing pond. A natural greenway is located across from the community and Clarksburg is in proximity to the Little Bennett Regional Park. The local school system is ranked among the top 25 in the nation. The 268-acre community will include 1,300 residential units as well as 110,000 square feet of retail space and professional office space.
Located in Northern Montgomery County, Clarksburg Town Center is a great alternative to commuters who work in the Gaithersburg/Germantown/Frederick areas.

Nearest Metro: Shady Grove (15min drive; bus stop nearby)
Price Range: Townhomes from the low $300k. Single Family from $500k.
---

Downtown Silver Spring: Have you been to Silver Spring lately? There are new restaurants, shops, movies, businesses, parking spots, and fun things to do all over town. This place is jumping! And the best way to experience everything is simply to walk around and enjoy yourself.
Downtown Silver Spring is one of the most centrally located and convenient spots to live in the Washington Metropolitan area. Many old-style homes have been renovated and are ready for new owners. Plus hundreds more homes are planned for construction in the next few years! The best part - everywhere in Downtown Silver Spring is within walking distance to Metro!

Nearest Metro: Silver Spring (walking distance)
Price Range: from $400,000
---
Wheaton/Silver Spring: Wheaton is a community made up of many neighborhoods. Located just minutes from the beltway and DC, Wheaton is a great place to live for anyone looking for a place to call home, with an excellent variety of educational and recreational facilities. It is a delight for restaurant diners and a bonanza for shoppers with great bargains at hundreds of unique specialty stores and a regional mall located in its downtown district.
Progress is being achieved in redeveloping and rejuvenating downtown Wheaton into a vibrant downtown center with a balanced mix of residential, office, and retail uses typical of an urban environment. Currently under construction are nearly 750 residential units in the form of brownstone style townhomes and condos. Pedestrian improvements, new safety measures and a Clean and Safe Program are being utilized to make the downtown a more attractive and friendly environment.
Nearest Metro: Wheaton, Glenmont, Forest Glen
Price Range: from $300,000-$500,000
---
Parkside: Parkside Condominium in Bethesda is a three-time NATIONAL award-winning community and one of the premier condominium communities in the Washington area. Parkside was originally built between as a rental community and converted to condos in 1981. There are 1, 2 and 3 bedroom garden-style homes located on 69 acres of land bordering Rock Creek Park.

Residents enjoy use of a swimming pool, tennis courts, clubhouse, ballfields, playgrounds and the trails of Rock Creek Park. All utilities are included in the reasonable condo fee.

Parkside is conveniently located near I-495, the Grosvenor-Strathmore Metro, Strathmore Music Center, and minutes from shopping at White Flint Mall and Montgomery Mall. There is also a county-sponsored Ride-on bus that provides transportation to all these areas and more!

Nearest Metro: Grosvenor/Strathmore (walking distance)
Price Range: from the low $200k

---
For more information any of these homes, please contact Jeff Escher.